---
Yesterday afternoon after the Maths and Irish Leaving Cert double header I finally started to see a bit more of my son, as he really is without the extreme stress and pressure that the Leaving Cert had put on him.
Leaving Cert Stress easing once the mandatory subjects are over
Young people go through so much in the run up to the Leaving Cert it's often easy to underestimate what is happening for them psychologically and emotionally. Their sense of self worth, of self esteem and of emerging adulthood are all wrapped up in this big test. Its hard despite what any gentle parent will offer in terms of support for them not to see this big test as being a big test of themselves, of their very being. Which of course it is not.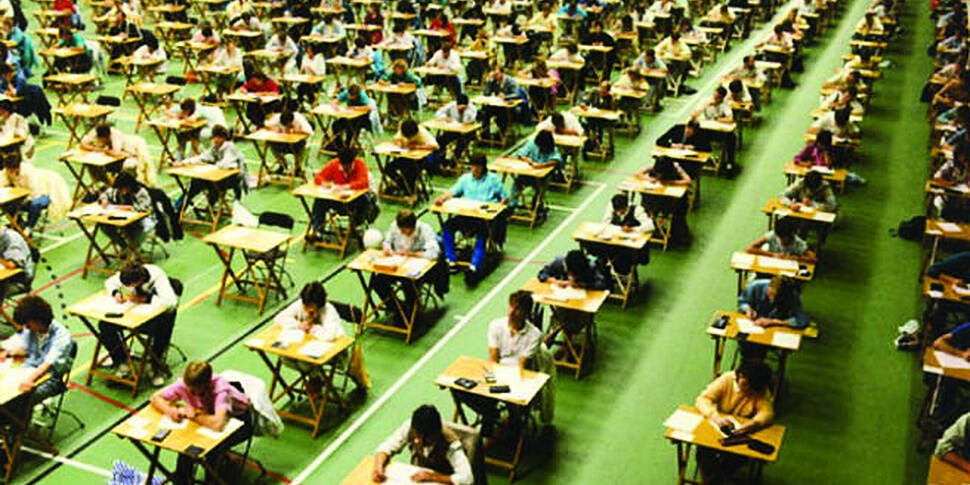 Don't think for one minute that the Leaving Cert and all the stress it enacts and all the self questioning it brings and sometimes self realisation begins on the Wednesday after the June Bank Holiday. No not at all. The Leaving Cert itself with all its associated testing begins the minute you sign up for it 22 months before.
The start of the Leaving Cert – choosing your subjects
It starts with subject choices. In order to choose the "right" subjects you have to kind of have an idea of what you want to study at third level (if that is what you want to do), or of what you need to progress into the workplace once your school days are over. That is a hard cal for a 16 year old. Might you want to study science or anything related to science in your life? Yes? Well then you'd better pick one of those leaving cert subjects that are labelled as acceptable for inclusion into a science program. In addition to the ones we all know about; Physics, Biology and Chemistry, Geography is also accepted as a Science in Trinity College and Agricultural Science is accepted as a science in NUI and Home Economics is also acceptable as a Science in some Colleges too. Bear in mind that Biology pairs with Irish in the exam timetable, Chemistry pairs with Spanish, and Physics pairs with Accountancy,Agricultural Science pairs with Hebrew and Ancient Greek, Home Economics pairs with English Paper 1 on the first day and Geography pairs with the first Maths paper.
Then there is the choice between what you want to do, what you love doing and what is going to enable you to maximise your points in order to get you to the next stage. Favourite point maximisers are Music and RE and if you have been lucky enough to have a second language spoken at home, that language! If your student is in any way mathematical then the accounting economics and business stream may be applicable, or even Applied Mathematics if they are already doing Physics. Some subjects your student may have a passion for but its very difficult to achieve maximum points in them, Art is one example. The judging of Art is highly subjective. Often students who are planning to enter into Art, Design and Technology need a rocking portfolio rather than Leaving Cert Art. Most schools will offer a portfolio class in addition to Art for those students looking for entry into NCAD or into various Institutes of Design and Technology.
Changing your Leaving Cert Subject Choices
Once the subject choices are made there are opportunities to change during the first term, or maybe to drop subjects altogether if your child has picked up more than six. Its very hard however to come to that realisation for many children, so you need to keep your ear to the ground. The last thing you want is for one subject to act as the albatross taking up 75% of their time and effort and taking away from other subjects. Well aside from Maths and Irish that is, which hangs as the proverbial albatross over so many kids, mine included.
Honours or Pass Leaving Cert?
We ended up dropping Chemistry and picking up Music, we also considered dropping to Pass Irish, but my son's Irish teacher insisted that since he was so good at oral Irish he should continue with the Honours Leaving Cert Irish. Sitting outside the school right now having watched him go in for his Honours Leaving Cert Irish Paper 2  I am not sure if that was a wise decision in retrospect, because a H5 in Honours is the same number of points as an O1 for a hell of a lot more work. So unless you have a reasonable assurance from your kid's Irish Teacher and your student themselves that they plan to aim for a H4 they probably are better heading down to Pass Irish.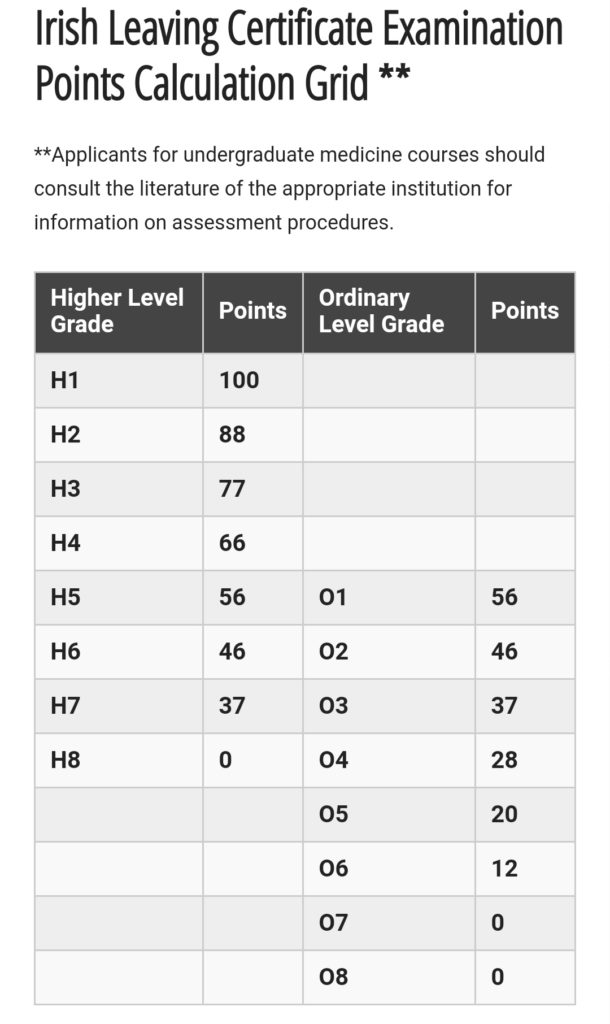 Once the choices are made and consolidated, there is really only a year of study involved. Once Christmas comes in 6th year, the focus turns towards submission of coursework and revision. The pressure comes on and any slip up in that rolling steam train choo chooing its way at top speed to the June bank holiday weekend can significantly alter the approach and attitude your student carries forward. It's important to ensure that they absolutely do not get sick between January and June as having a week off recovering from a physical sickness is hard to recoup in study time.
The CAO application process
Then of course the exams start, so there will be Christmas exams followed quite swiftly by Trial Examinations (mocks to you and me). In addition, during this examination period you child will need to fill out a CAO form and attend College open days. Maybe your child knows EXACTLY what they want to do, or maybe they are considering it for the first time. This year the CAO for Third Level Entry opened in November and closed on the 1st February. So all CAO business had to be completed between the start of the Christmas exams and revising for Trial Examinations.
Do not underestimate the CAO application. If your child had assessments that qualifies them for The DARE Scheme all of those also need to be in order so that your child will ensure lower compensatory offers from Colleges.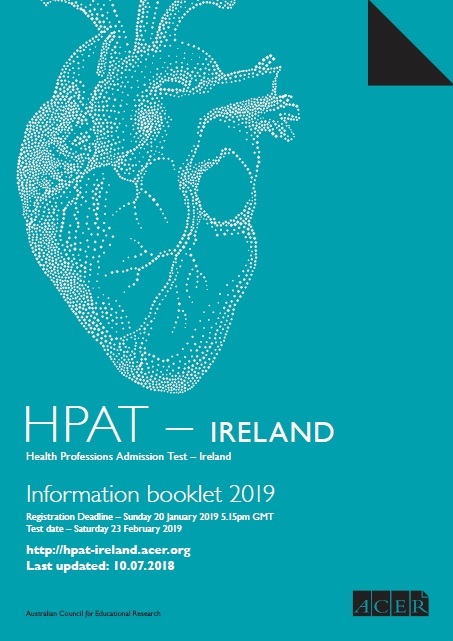 CAO Auditions Tests and Interviews – Restricted course choices
The CAO also has associated tests interviews and auditions. The most well known being the HPAT for entry to Medicine. This theoretically ensures that only candidates with the appropriate humanity and passion for cure are admitted.  Rest assured, there are grinds for that to ensure that your child will pass it if it's Medicine they are after irrespective of what kind of bedside manner they may have! However, there are others too, for example auditions for Music, for Drama and the Performing Arts and portfolio interviews for Design, Fine Art and Architecture. These all happen any time between the Trial Examinations and the end of the school 6th form year in May, at the same time, yes at the same time, as the Final Leaving  Cert Oral Examinations, the Final Leaving Cert Performance Examinations in Music, the Final Leaving Cert Art Examinations and LC  Continuous Assessment Examinations for subjects such as Geography, Art and RE.
The non written Leaving Cert examinations
The non written examinations for the Leaving Cert start as early as March and that time from the Trial Examinations to the last weeks of the year are peppered with deadlines and exams.
In our case for example we had Spanish Oral, then Irish Oral, Music Performance and Art Portfolio in the same week. Then we had Geography Field work and RE Project in the same week and finally Life Drawing just before school finally finished.
All in all the process of examining starts in early December and doesn't really finish until The Leaving Cert written exams are over towards the end of June. It's a long haul that takes its toll on your student and your entire family. I am so glad that with Maths and Irish over now; two subjects my son finds extremely difficult, but was forced study for his Leaving Cert we can release some of the stress.
Welcome home Naoise!
#LeavingCert #LeavingCertMamma #LeavingCert2019 #LeavingCertificate
Exams Completed: 7 Exams Left to go: 4
Subjects Completed: 4 Subjects Left to go: 4